A Presidential election provides a nation the opportunity to reflect on what's important in a leader. Pragmatic activists often get twisted in knots trying to figure out not just who is the candidate that is closest to our values but also one that is equally electable in a general election. It's a dilemma that too many times ends in disappointment, as the 'best we were going to get' underperforms, unable to rally both base voters and independent wildcards.
As a political activist and host of the longest running Latino led political talk podcast, I have done my best to resist that mental trap. I have also been transparent with my listening and social media audience, promising to let them know when I had decided on who I was supporting in this year's Democratic Presidential Primary.
So, after diligent research, reflection and prayer, I have made my decision: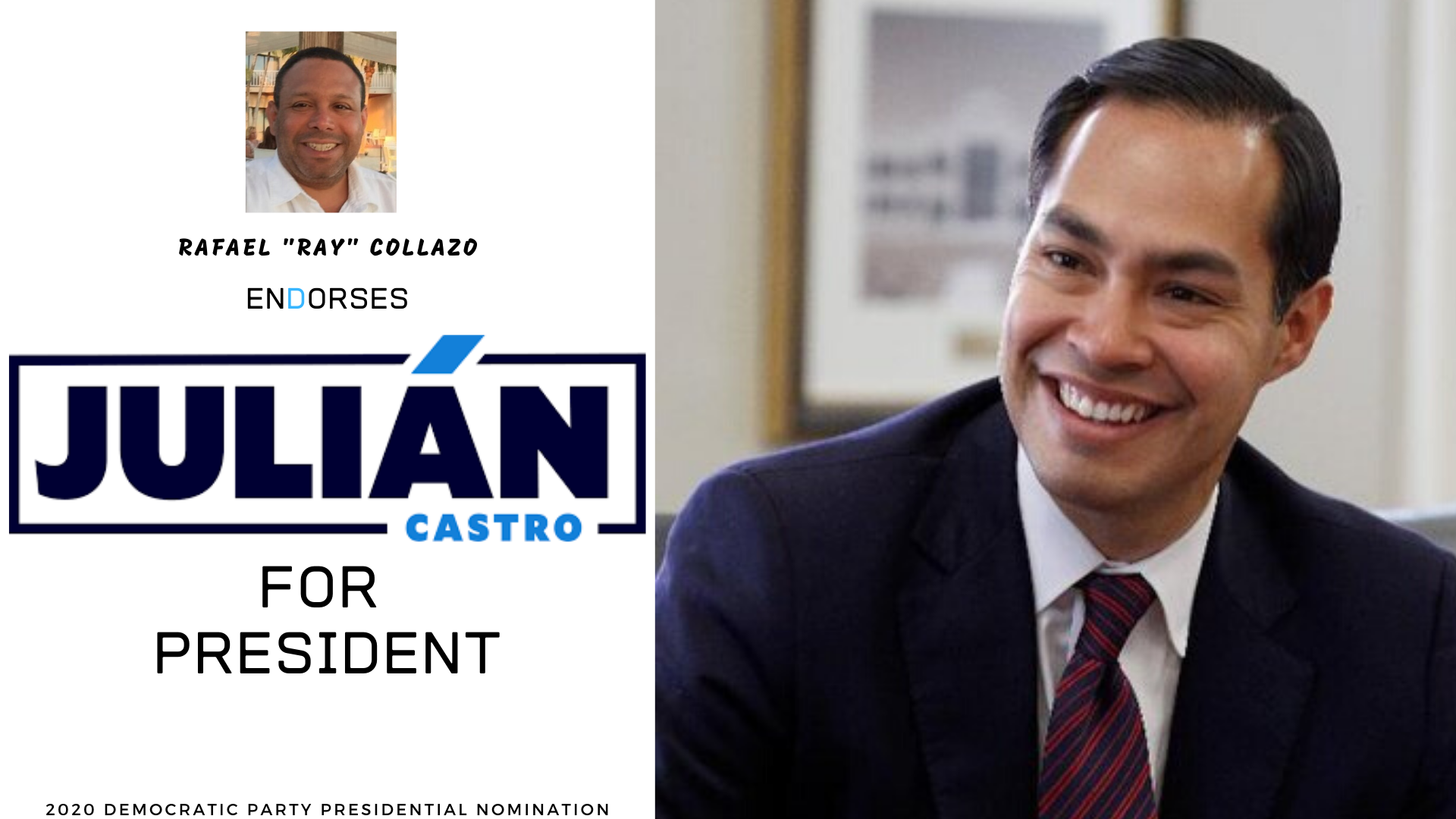 Today, I am making my public endorsement of Julián Castro for President of the United States.
From the beginning, I was looking for a candidate that would lead our nation by addressing the issues of the most vulnerable: income Inequality and other social inequities spurred on my institutional racism. A candidate who understands the real-life impact of the American Dream slipping away from minimum wage workers and even recent college graduates. A candidate that would mobilize the new majority of Americans (voters of color, young people, progressives, economic populists and suburbanites) by speaking directly to their issues and showing them they would fight for what's right.
A candidate of high ethical character who in these turbulent times could re-establish our moral center as a nation.
Julián Castro is that candidate.
After a year of following this election cycle, it's clear to me now that Julián will lead with the focus, passion and ethics required for these challenging times. Whether it has been housing, criminal justice reform, indigenous rights or immigration, Julian has consistently been one step ahead with both thoughtful policy proposals and the courage to bring these issues to the forefront of the debate. His commitment to speaking truth to power, regardless of the conventional political consequences, is what will excite the new American majority and move our country forward towards the healing we need.
I am proud to endorse Julián Castro for President and encourage all my friends and associates to donate at JulianForTheFuture.com. Let's do all that we can to make sure our families' values and futures are front of mind for the next Commander-in-Chief. While some might argue that the sun is soon setting on this primary cycle, there is more than enough hours left in the evening of this political process. More importantly, the time is well past for this process to be steered by corporate media analysis and tiny all-white early voting states to determine our destiny.
It's time for 'People First' to become reality. The stakes in next year's elections are too high to settle for just a 'consensus' candidate. We deserve not just 'the best' candidate for our inclusive coalitions, but also one that is meant for this moment in history and for our democracy's future.
That leader is Julián Castro.
Rafael "Ray" Collazo Activist Host of "Found In Translation Talk Show" (formerly called Rays Latino Talk Podcast) Email: podcastrays@gmail.com Twitter: @rayspodcast
Note: This is solely a personal endorsement and does not reflect the positions or opinions of any employer, affiliated organizations or other members of the "Found In Translation Talk Show" staff or community.